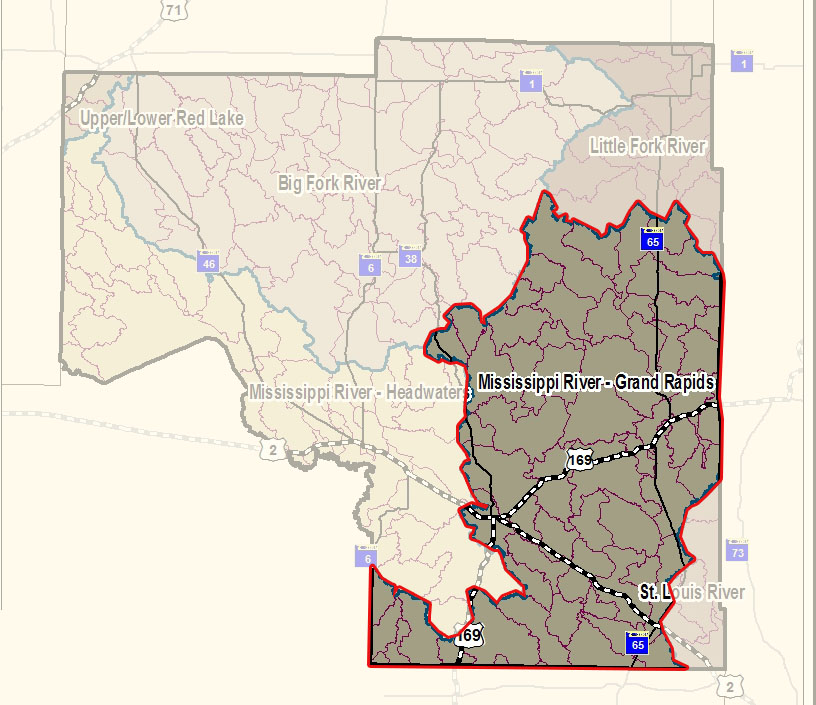 The Mississippi River - Grand Rapids watershed covers 1,316,071 acres and contains 1,908 miles of stream/rivers and 552 lakes greater than 10 acres. The watershed drainage comprises parts of Aitkin, Carlton, Cass, Itasca, and St. Louis Counties. Some of the major cities are Grand Rapids, McGregor, Remer.
Characteristics
Land use consists of 56% forested, 27% grass and wetland, 7% agricultural, 7% water, and 3% urban. The watershed has 4 nutrient-impaired lakes and 2 impaired stream reaches (2008). Nearly 89% of the land is privately owned; 4.76% is publicly owned. The watershed contains numerous heavily developed lakes. The majority of the lakes are important recreational resources and economic benefits to the watershed.
What's Being Done
Surface Water Assessment Grants completed sampling on 147 lakes within Itasca County. The Big Sandy and Lake Minnewawa TMDL project has been completed and approved by EPA.
Protection strategies will be an essential element moving ahead into the future to maintain the water resources of the watershed. Intensive water quality monitoring began in this watershed in 2015.
Visit our Upper Mississippi River – Grand Rapids Watershed STORY MAP! https://carltonswcd.maps.arcgis.com/apps/Cascade/index.html?appid=7d6c02c66fd145d2bde9f4ae887528de